Why
Taking
the
Time
to
Review
Your
Website
Is
a
MUST!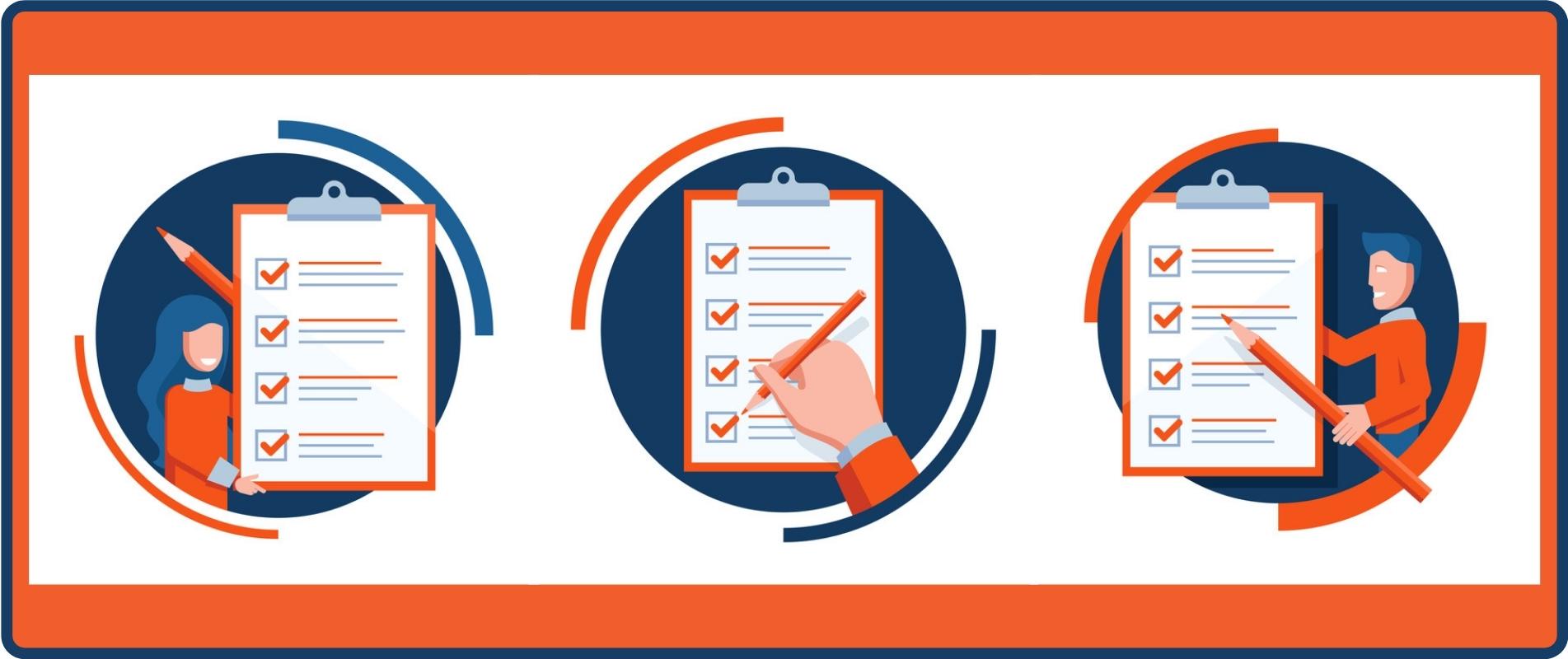 So you spent the time with EyeMotion, creating an attractive, informative website. Your optometric website is the best—the pictures are striking, the office info is all there, the links to your forms and reviews and appointment scheduling really stand out.

You're done and you never have to think about your website again, right?
We all know that's not the case, but too often we find that our clients put their websites on the backburner because of how busy they are. And so, office hours are now wrong, links don't get updated, and contact form emails don't get seen because it's going to an email address no one checks anymore.
When it's written out there like that, it's easy to see why an out-of-date website is a problem—it frustrates potential patients, makes the practice look unorganized, and hurts your SEO.
So here are our recommendations for keeping your website current.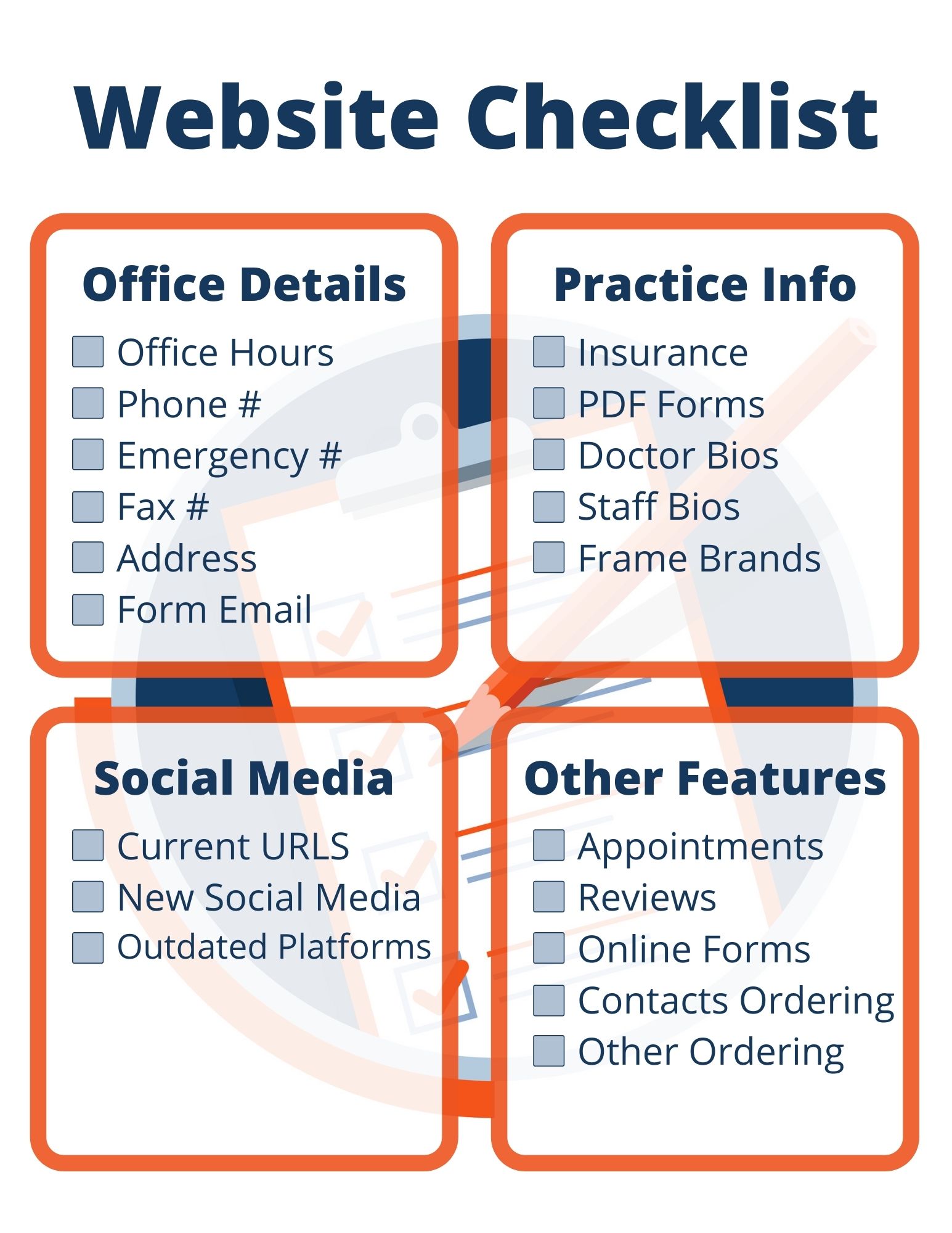 Make sure someone is reviewing your site on a regular basis. If you are super busy, designate a staff member (or two!) to spend a couple hours looking at key information on your site. Perhaps select people from different departments—front desk, optical, billing, tech—to take turns checking the site once a quarter.
Have a checklist of key info to inspect. This will vary based on what you have included on your website, but here are some generic recommendations of things to look for—
Office Details.


Office Hours.
Phone and fax numbers. Does your phone number now receive texts? If so, it's good to have that info on your website.
Address. Don't forget to update ASAP if you move or the Post Office changes your address!
Email address (or addresses) that receives the website contact forms. Occasionally, we'll have a practice that realizes that no one has been receiving or responding to these forms because they were only going to

This email address is being protected from spambots. You need JavaScript enabled to view it.

and she left three months ago. So frustrating for patients!
Practice Information.


Insurance. If you provide a page of insurances you take, it's essential to keep this updated or risk upsetting potential patients who thought you accepted their insurance.
PDF forms. Check your .pdf forms to make sure they are your latest ones.
Doctor/Staff pages. Many practices forget to add new doctors for weeks, months, or even years, and this can really hurt your patients' ability to find where their favorite doc went, etc. Also, it can be a little shocking to patients when a doctor's photo is 25 years old and his appearance has changed drastically.
Social Media Links


Current URLs. Over the years, we've discovered quite a few social media links that no longer worked. Maybe the practice changed its name, or it deleted one Facebook business page when it discovered there were duplicate business pages. In any case, it's always good to click on all your social medial links to make sure they are still valid.
New Social Media. It's also important to add any new social media you might now have.
Outdated Platforms. If you haven't updated your Twitter feed in years, it's probably best to remove the link from your website.
Other 3rd Party Features.


Online Appointment Scheduler. Are the schedules correct? Doctors' names current? Is the link to the URL working?
Reviews. If you switch office software, you might need to switch the link to where people can see your reviews. Otherwise, it can look like you haven't had any reviews in the last two years.
Online-fillable forms. Make sure the link is working and that the questions are still valid.
Online Ordering. If you have a contacts or frames store from a 3rd party, check to make sure the link is still working. Sometimes the store provider makes URL updates, and people won't be able to find your store if you haven't told us about the new web address.

To make this easier on you and your staff, we've created a printable checklist with these items.
Checking this information doesn't have to take a lot of time, and keeping up with your website is well worth the effort. We're here to assist you with this—let your project manager know if you need help getting your site updated!