What's
New,
Stylish
&
Covered
with
Glasses?
It's
STEREO,
EyeMotion's
New
Advanced
Design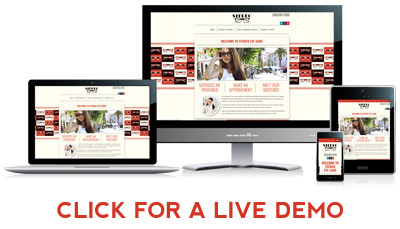 Just like you enjoy bringing in and showcasing trendy new frame styles and office décor, we here at EyeMotion like to create fresh website looks that stand out from the crowd. That's why we decided it was time to develop a new Advanced design, and why we are excited to premiere STEREO, our latest look.
What sets this design apart? We're glad you asked!
While there are no moustaches or plaid flannel shirts in sight, our STEREO design has a touch of retro, hipster vibe going on. You've no doubt noticed eyeglasses are everywhere in design these days—fabrics, purses, wall art, etc.—and we decided to get in on the action. We layered a fun glasses background panel on top of pinstripes to create a subtle parallax motion caused by these background images moving at different speeds. You can see it in action here.
Like all our designs, STEREO is fully responsive, which means it will look great whether your patients are viewing it on laptops, tablets, or smart phones. We will customize the layout just for you, based on the features you need on the home page and what priorities those features should have. It also comes in 6 eye-catching color palettes. Love the design, but need it to match your logo and office interior? No problem—we can customize the color for a small fee.
If you've been thinking it might be time for a website revamp, or you need to spend money on your practice before the end of the year for tax reasons, now would be a perfect time to get in on a great promotion we're running through the end of the year. We'd love to talk with you about STEREO or any of our other classic Advanced designs. And if none of our Advanced designs matches the Southwest Modern Gothic feel of your practice, we still offer our Premier design level, which will customize your website to your practice's branding.
BONUS: In addition to the savings in our current promotion, we're offering an additional $100 off to anyone mentioning they saw this offer in this email.
Call us today at 866-595-1476 (ext. #1 for Rod, ext. #2 for Stephanie, or ext. #3 for Julie) or email us here.