Google
To
Make
Mobile
a
Priority...Again

Last year Google announced they were going to penalize sites that weren't mobile-friendly. Last month, they said they were increasing the ranking signals yet again beginning in May! We're here to help make sense of this latest update.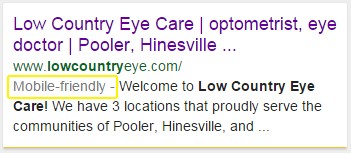 First, you may be wondering why Google would begin doing something like this again.
To be fair, they have always stressed end user experience as a predominent factor in their ranking results; this update is no exception. In fact, their continually updated algorithms take into account over 200 unique web signals that help end users find it easier to get relevant, high quality search results that are optimized for their devices.
As this May Google update looks to be another significant algorithm change, we've sifted out the most important pieces of information. But as always, be sure to call us at 1.866.595.1476 if you have questions or concerns.
Key Take-Aways
Only affects MOBILE searches.
It is unknown at this time how much your site ranking will be affected, however, it has been suggested that you'll drop in rankings if your site fails Google's mobile-friendly test.
Is your site mobile-friendly? Use Google's simple mobile-friendly test tool to find out (the result will look like the picture at the end of this post if it is).
If your site is NOT mobile-friendly, don't worry, we've got options for you! And even have a limited time upgrade Promo! Call us and we'll go over these with you if you'd like :)

FREE Responsive Conversion: We can take your existing EyeMotion site and responsivize it! At no extra charge! Call us now to get your name in the conversion queue.
Upgrade to a New Site: This might be the time to go for a new look altogether. All of our newer sites are responsive by default. Check out our new website and updated options here.
Mobile Specific Site: A few of our clients may qualify for our customized mobile site, rather than the responsive conversion. Contact us to find out if this is you. There are a few charges applicable going this route, but we can work with your budget.
Again, if you have questions about this or any other website-related issue give us a call and we can help!